Although this is not the first G-Class that we feature here, it was the first that we got and restored.
This G-Wagon (W461) is not even an old-timer, hardly you can call it a young-timer, since it was built in the year 1999.
This car is a 290GD turbodiesel.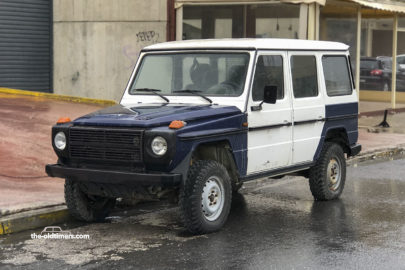 The only previous owner was the Greek police. The car was in service until 2009 and then abandoned.
We always dreamed of rebuilding a Mercedes G and we had a very specific vision of how to do it. The restoration began in 2018 and lasted until mid-2019.
Almost everything has been redone in this vehicle.
The body and the frame have been repainted and new underbody protection applied.
In the interior, all seats are upholstered again and covered with the legendary gray checkered fabric. The carpet was completely redone and new velour mats made. The headliner is also redone with black Alcantara-like material. In addition, the dashboard, all door panels, sun visor and music system have been redone. All rubber seals and window seals are also new. The entire interior is covered with heat and sound insulation from the inside.
Very much has been done under the hood too. The highly sought-after OM602 engine has been completely overhauled. These includes 5 new pistons, oil pump, crankshaft, camshaft, hydraulic bucket tappets, valves, glow plugs, gaskets and more. The turbocharger was also been renewed. The automatic transmission as well as the alternator were serviced.
The G now has a new suspension. New Koni shock absorbers Heavy Track. New aluminum track plate widening front and rear. And larger tires, 245/70 R16 Michelin Latitude Cross mounted on original black G Professional 7.5×16 wheels. The axle joints, tie rod ends and tie rod are also new.
Furthermore, the complete brake system has been overhauled. The front calipers are retrofitted with 4 piston Brembo calipers. These include new brake discs and pads front and rear.
Visually, the SUV has been converted to the "G Professional" equipment. These include the large exterior mirrors, the rims, the rear license plate holder, fender widening, the fog lights and the graphite gray exterior paint.
The comfort features include, the front comfort seats with armrests, central locking, power windows front and rear, automatic transmission, parking assistance, LED headlights and tail lights, glazing with tinting film with UV protection, two additional folding seats in the trunk, and much more.